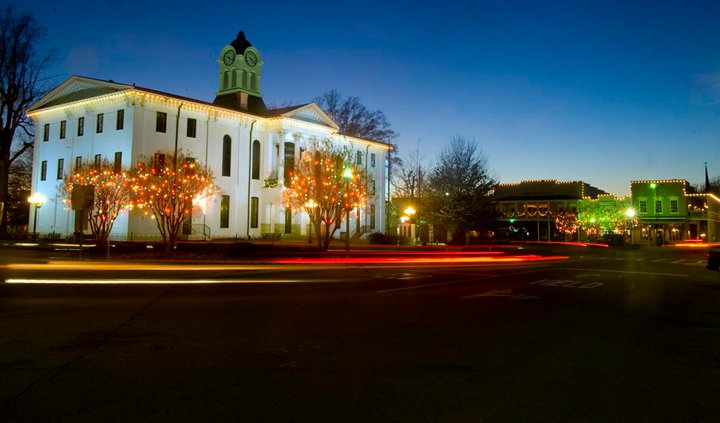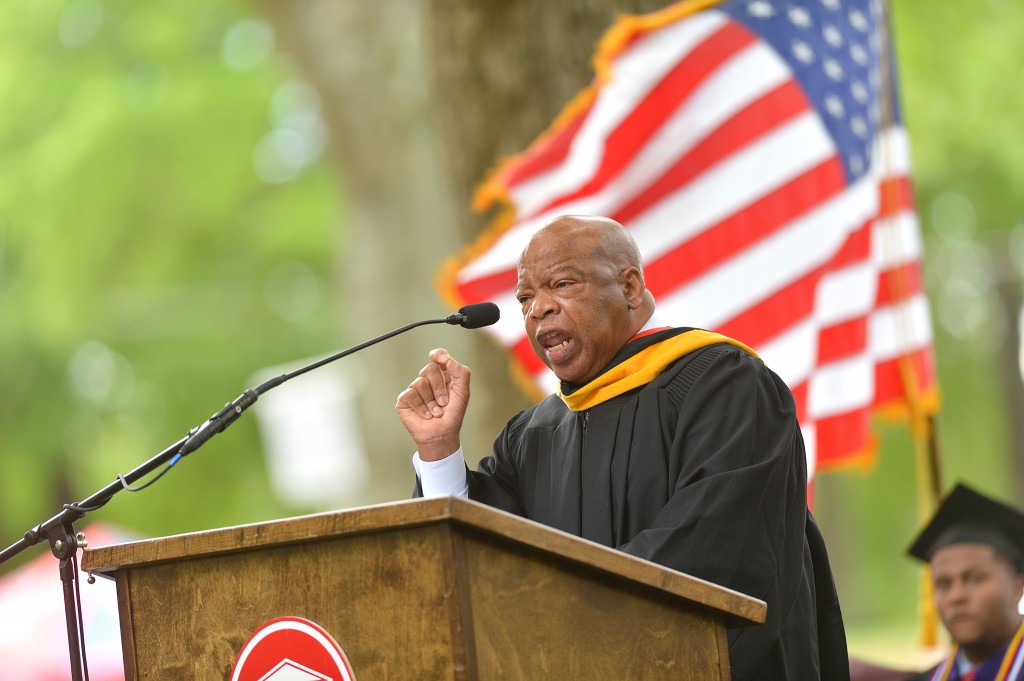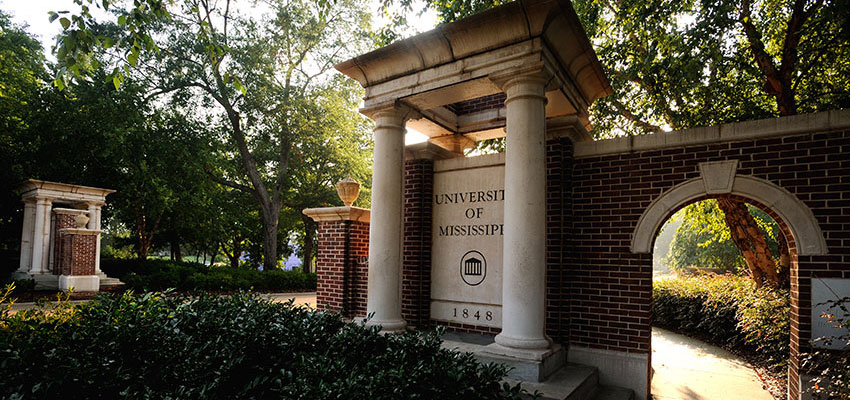 News and Events
Welcome to Ole Miss Graduate Student Council! Please check back often for news affecting our graduate and professional students.
The most up-to-date information can be found on our social media accounts:
Facebook @umgsc
Twitter @OlemissGSC
Instagram @umgsc
2018-2019 Graduate Student Council Election Results

Executive Branch: Officers 
GSC President
Christopher Bright-Ramos, Department of History
GSC Vice-President
Alexandros Vasios Sivvopoulos, Department of Economics
GSC Secretary
Martin Genter, School of Law
GSC Treasurer
Andreas Vortisch, Department of Economics
Executive Branch: Directors
Director of Professional Development
David Harmon and MaKensey Sanders
Director of Student Affairs
Terrian Garvis
Director of Social and Philanthropic Affairs
Ashley Polk
Director of Communications
Dylan Kimery
Legislative Branch:  GSC Senate
GSC SENATORS
Name, Department
Kristin Bouldin, History
Tom Porter, History
Angelina Mort, School of Law
Fischer Austin, Pharmaceutics
Jasmine Hannah, Social Work
Breana Cook, Social Work
Abhishek Shettar, Pharmaceutics
Alexandra Gilbert, Psychology
Andrew Herren, School of Law
Ann-Elodie Robert, Chemistry
Celine Geday, Philosophy and Religion
Chaz Hyseni, Biology
Chloe Parrish, Journalism
Chris Hill, Health Excercise Science
David Allen III, Pharmacy Admin
David Schultz, Southern Culture
Erik Hodges, Medicinal Chemistry
Ethan Davis, Philosophy and Religion
Gabrielle Vogt, Curriculum and Instruction
Gina Boullion, Psychology
Haley Simmons, Political Science
Hannah Weeks, Leadership and Counselor Edu
Hunter Shirley, Chemistry
Jessica Munoz, Modern Languages
Jiayu Fang Mechanical Engineering
Jimoh Braimoh Modern Languages
Jiwon Lee, Music
Jules English, Curriculum and Instruction
Kayla Lindquist, Nutrition & Hospitality
Kyle Baggerly, Leadership & Counselor
Lawrence Ogbeifun, Economics
Maisha Bulaya, Legal Studies
Mary Berman, English
Monika Salkar, Pharmacy Admin
Nypherria White, Legal Studies
Phil Kains, Mathematics
Sara Jennings, Accountancy
Sarah Amonett, Biology
Sumanetra Ghosh, Economics
Spring Formal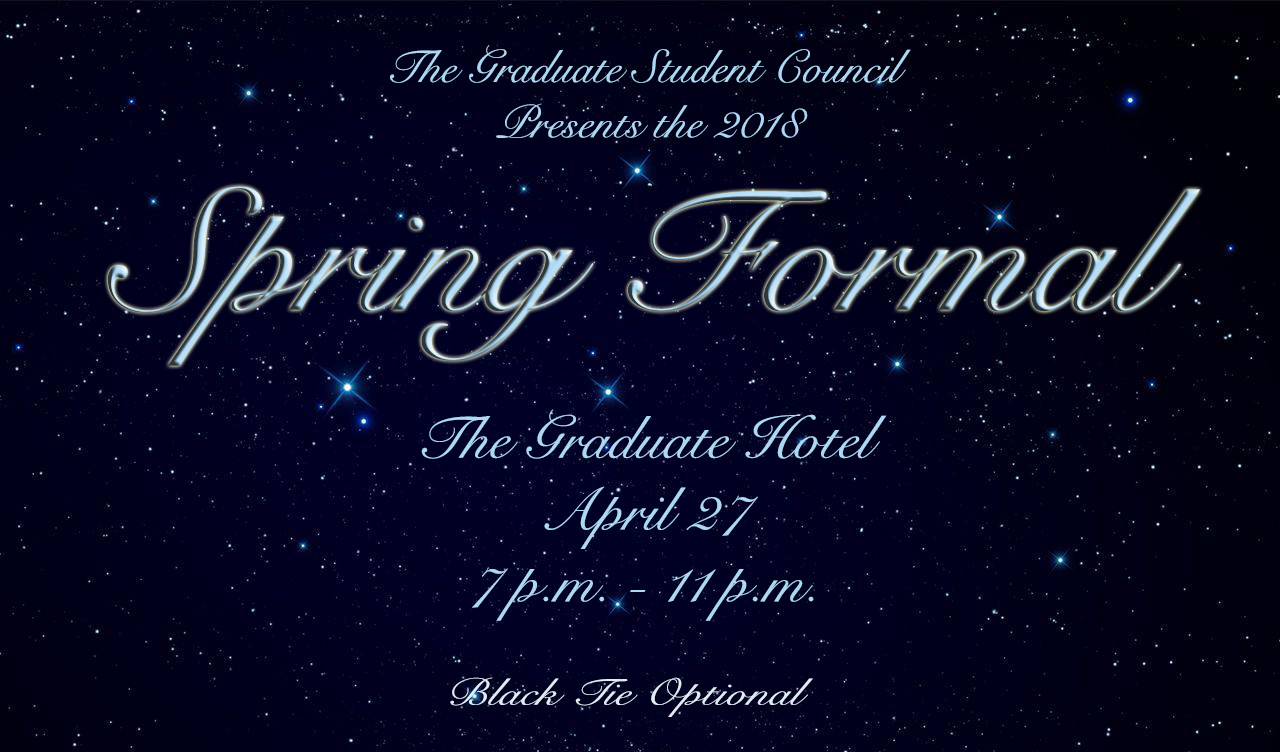 The biggest social event of the year!  Featuring live music by Memphis classic rock band He Said She Said. Hors d'oeuvres and small plates provided; cash bar.
Admission is free to all grad students and their dates! Black tie optional.
Mezzanine C
Plans are underway to convert the library's Mezzanine C to an exclusive, graduate-only floor! GSC leadership has met with a university interior designer, who is now developing detailed plans for the best possible use of the space, to include individual desks, comfortable lounge furniture, and table options.
This project has been several months in the making, and we expect to unveil the new graduate-only study space this summer!
The 8th Annual Graduate Research Symposium on March 20 was a great success, thanks to those who made it possible. The Graduate Student Council is grateful to the judges for volunteering their time, the presenters for their enthusiasm and dedication, and to the Associated Student Body and the Graduate School for sponsoring the event. The monetary prizes will be used to fund the students' future research and presentations at future symposiums. Click Here for a list of this year's winners.